2023
Scholarship Program
2023 IASC Scholarship Program All IASC members and their families are eligible to participate. All applicants must be full or part time students, carrying at least 9 credit hours and earning the equivalent of a "C" average or better at an accredited college, university, or technical college and must reside in the state of Illinois. 2 Scholarships will be awarded $2,500 & $1,000. Applicant Procedure:
Scholarships will be awarded based on original written essays submitted by the applicant. A panel chosen by the IASC scholarship chair will judge essays.
The essay theme is: "Please tell me your ideas on how, as an association/region or club we can educate other snowmobilers about trespassing issues, loud pipes and respect for the trail system, our landowners, and other snowmobilers."
All applicants are required to have successfully completed a snowmobile safety class. A copy of the applicant's safety certificate must accompany each essay submitted.
Format: A. Two to four pages, typewritten and double-spaced. ** please do not send essay as a PDF B. Essays will be judged on content, originality, neatness, spelling, and grammar. C. Cover sheet:

Name, address, phone, and email
Parent's name and address
Name and address of school
Club president must sign cover sheet
Include photograph of self

D. Cover sheet will be removed before judged, and any reference to club, family, etc. will be removed so that only the quality of essay is judged. E. Winning essays will be published in the Illinois Snowmobiler.
Click here to download the IASC Scholarship Application
Each scholarship check will be mailed directly to the recipient's school prior to the beginning of the second term, upon submission of any official transcript that shows the student has earned the equivalent of a "C" average or better. A special presentation will be made during the IASC Convention. Recipients and their immediate families are asked to be present.
All applications should be submitted via e-mail to: iascscholarshipfund@gmail.com. Essays must be received by April 1st.
The 2022 winners, Congratulations:
1st Place, $2,500.00 Lauren M – Blackhawk Snowblazers – Region 3
2nd Place, $1,000.00 – Gus Lr – Elgin Cold Ducks – Region 5
I would like to thank all the clubs and regions for so generously donating to the scholarship program.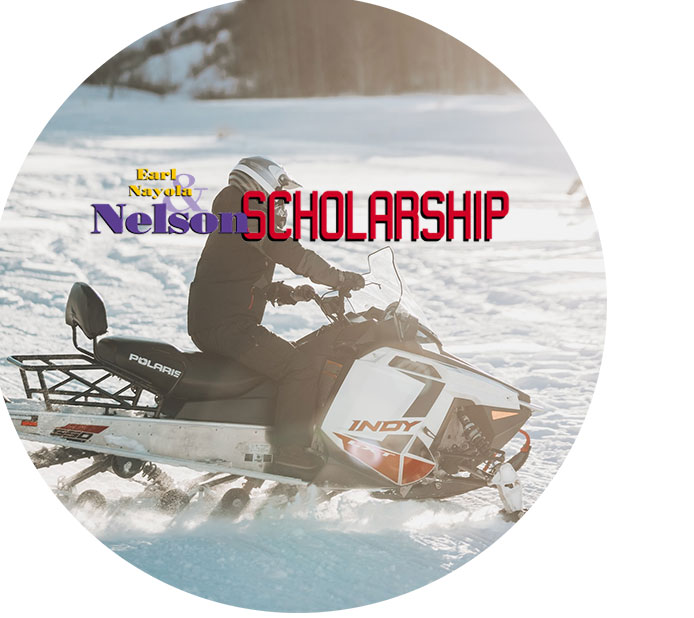 The IASC Earl and Nayola Nelson Scholarship
Earl and Nayola Nelson Scholarship program was started in 1985. It was named in their honor as a tribute to their writing talents as well as their commitment to the IASC and The Illinois Snowmobiler Magazine that they started and were the first editors. It is open to all club members who have taken the safety class and are at least High School seniors and are enrolled or enrolling as a full time student in College. It is an Essay Scholarship with yearly themes to follow. It has grown from 1 Scholarship awarded in 1985, to 2 in 1996 and then 3 in 1999. Starting in 2010 another was added with a total of $3250 in Scholarships given out. The Scholarships are fully funded by the generosity of the IASC Convention attendees. This program has also changed throughout the years and now awards 2 scholarships for $3500 total to the winners. The IASC is very proud of this program as the youth of the sport is our future.
get in
touch
Join the fun!
Please print, fill out and send in the membership application form.