There are great snowmobile dealerships throughout Illinois! It takes more than just selling a lot of sleds to make a great dealership–its true dedication to the sport and the customers they serve that make them stand out above the rest. Each season the IASC sponsors a Dealer of the Year program intended to recognize an Illinois dealership that is involved and active at all levels, customer, organization, and overall total support of snowmobiling. The IASC winner is submitted to the ACSA competition for Snowmobile Dealer of the Year where dealers from all 27 snowmobile states are judged. The ACSA Dealer of the Year is announced at the annual International Snowmobile Congress held in June.
The IASC Dealer of the Year is featured in the September issue of the Illinois Snowmobiler. They will be invited guests to the annual IASC Convention Banquet in November, at which time they will receive a recognition award.
Nominations may be submitted by IASC member snowmobile clubs or individual IASC/Club members. The following OFFICIAL NOMINATION FORM MUST BE USED. All nominations should include a cover letter offering some insight into why you feel your nominee should be chosen and pictures supporting your nominee. Also include the nominee's full name, address, a description of the nominee and their contributions to snowmobiling, as well as an explanation as to why these contributions are particularly noteworthy.
To download the nomination form, click here.
Please submit 2 original nominations by May 15th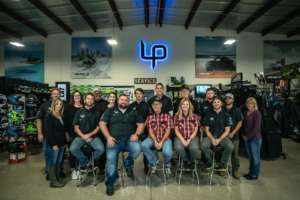 2018 Loves Park Motorssports, Roscoe, IL
IASC Dealer of the Year
1986 B&R Sales, Tampico IL
1987 Nielsen Enterprises, Lake Villa IL
1988 Victor Ford, Wauconda, IL
1989 Scholl's Artic Cat & Ski Doo, Elgin IL
1990 Christensen Power Sports, Frankfort IL
1991 F&R Snowmobiles, Waukegan IL
1992 J&J Sports, Sycamore IL
1993 Route 12 Rental, Arlington Heights IL
1994 F&R Snowmobiles, Waukegan IL
1995 Kenyon Power Sports, Chillicothe IL
1996 Murray Ski Doo, Champaign IL
1997 Nielsen Enterprises, Lake Villa IL
1999 Route 12 Rental, Arlington Heights IL
2000 F&R Snowmobiles, Waukegan IL
2001 Leone Polaris, Peru IL
2002 B&M Arctic Cat, Mendota IL
2003 Recreational, West Chicago
2004 Lissy's Polaris, Wilmington IL
2005 Dealer Declined
2006 B&M Motorsports, Mendota IL
2007 J&J Sport, Sycamore IL
2008 Nielsen Enterprises, Lake Villa IL
2009 Moline Boat & Motor, Carbon Cliff IL
2010 Hammertime Sports, Belvidere IL
2011 Novotney Sales, Johnsburg IL
2012 Leone Polaris, Peru IL
2013 Dockside Marine, Wilmington IL
2014 Loves Park Motorsports, Machesney Park IL
2015 Full Throttle Power Sports, Lena IL
2016 Route 12 Arctic Cat, Arlington Heights, IL
2017 Eastland Motorsports, Lanark, IL
2018 Loves Park Motorssports, Roscoe, IL
2019 Dockside Marine, Wilmington, IL
2020 Covid year
2021 Rich's Yamaha, Lockport, IL
2022 Leone Polaris, Peru, IL
ACSA Snowmobile Dealer of the Year
2004 Lissy's Polaris, Wilmington IL
2006 B&M Motorsports, Mendota IL
2008 Nielsen Enterprises, Lake Villa IL
2010 Hammertime Sports, Belvidere IL