Active, dedicated families have been the backbone of our sport from the earliest days of organized snowmobiling and it is through the hard work of these families that we have the trail system that we do today. Recognizing the importance of these families to snowmobiling, the IASC will be honoring one family each year as the association's Snowmobile Family of the Year. The winning family will go on to compete in the ACSA American Snowmobile Family of the Year contest.
Now is your opportunity to nominate those you feel best exemplify our outstanding snowmobiling families. Nominations will be accepted from clubs, regions, and individual members. Self-nomination is also permitted. There is no restriction on how many nominations can be submitted from a region or club — we want to learn about as many dedicated families as we can! Your nominees should include snowmobilers that have demonstrated a deep commitment to snowmobiling and are involved in snowmobile organizations striving to make the sport even more enjoyable in the future.
The IASC does have some expectations from the winners of the Snowmobile Family of the Year award. It will be their responsibility to promote a positive image of snowmobiling any time they are representing us as well as promoting the Zero Tolerance I say, Till I'm done for the day and Snowmobilers Care About the Environment themes. They will need to attend the annual convention luncheon in November, at which time they will receive their award. The winning family is also expected to attend the IASC Legal Action Fund-raiser and local events in their area and to provide pictures to the magazine from each event that they attend. The winner will be announced on October 1 and presented their award at the IASC Convention in November. Snowmobilers from outside the IASC will do judging for the Family of the Year award.
Snowmobile Family of the Year Nomination Form
Use the following nomination form. An OFFICIAL NOMINATION FORM MUST BE USED. All nominations should include a cover letter offering some insight into why you feel your nominee should be chosen and pictures of your candidate. Also include the nominee's full name, address, a description of the nominee and their contributions to snowmobiling, as well as an explanation as to why these contributions are particularly noteworthy.
To download the nomination form, click here.
IASC Snowmobile Family of the Year for 2022 – The Boggs family.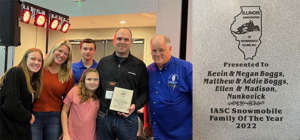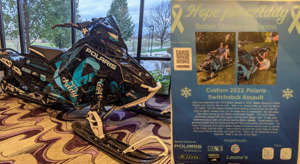 IASC Snowmobile Family of the Year
2022 Boggs Family
2021 Kai, Stephanie and Ray Steward
2020 Covid
2019 Al, Halina, Levterov, Christopher & George Przybylak
2018 Pat & Deb Pendergast
2017 None
2016 Wayne & Shirley Hinz
2015 Dave & Lori Mayer
2014 Scott & Becky Haseman, Randi, Cameron & Austin
2013 Dave & Lori Mayer
2012 Mark & Elen Hazzard, Megan & Alex
2011 Lindon & Yvonne Dewet, Brad & Jon
2010 Hennenfent Family
2009 Dan & Barb Long, Mason & Sawyer
2008 Cyril Breit & Family
2007 Hank & Kim Armbrecht
2006 Steve & Tina Hefel, Lindsey &and Kaitlin
2005 Tony & Sui Funari, Dominic & Jessica
2004 Ken & Val Ebel, Jake & Callie
2003 Doug & Cathy August, Alan & Jason
ACSA Snowmobile Family of the Year
2021 Kai, Stephanie, and Ray Steward